10 Best Waterproof Shower Clock For 2023 -Top Buying Guide
An average American spends 10 minutes in the shower. This means 17.2 gallons of water every time we consume during the shower.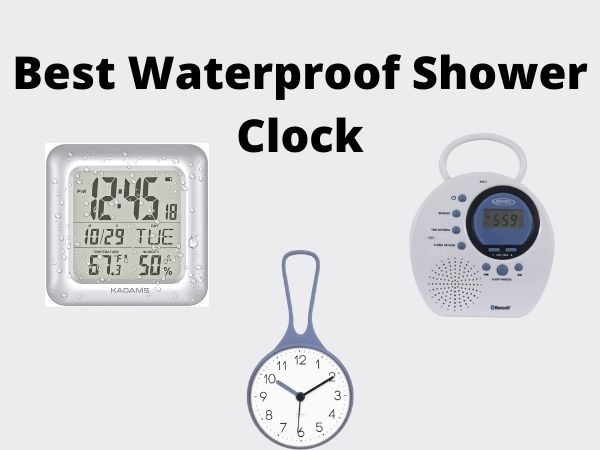 Don't you think we are threatening our natural resources? Of course. You can reduce the consumption by capping yourself in a time frame.
This single step can ensure a healthy environment for our next generation. So, what type of clock should you use to track your shower timing?
Read our best waterproof shower clock review. You will get to know the perfect match for your shower room. Don't miss the buying guide.
Buying Guide: 6 Things To Know
Buying a shower clock is not always a piece of cake. There are a lot of things to evaluate.
So what should you consider before purchasing a chowder clock? Here are the 6 things.
Radio and Music:
People relax while taking a shower. They want to enjoy the moment by listening to their favorite song or tuning in to their radio show.
Having radio or music playing facilities can be a big assist in a clock. So, we recommend you check this feature. While you are analyzing the mentioned feature, try to check the sound quality.
Time and Temperature accuracy:
Your main object for buying a clock is to see the time and temperature. It is wise to check the accuracy. So, the indoor temperature and humidity report should be checked. Use google to cross-check the accuracy.
Mounting:
Most digital clocks come with several mounting features. The suction cup is the most common thing. All suction cups are not suitable for tiles and mirrors. We recommend you check the strength of these cups before buying.
Technology:
Updated technology must be considered. It includes Bluetooth, device compatibility, automatic phone reception, and touchpad sensitivity. You will see these features mostly on digital clocks. Considering these will give you extra assistance while showering.
Operation:
Electric, Solar, or Battery – which one should you go for? Electric operation is better. If you want overall stability, we prefer to go for a battery.
Built-Quality:
Waterproof feature is the tagline for every manufacturer. So, what makes a clock waterproof? Built quality. Check the plastic quality before buying. Some brands have layered their clock with rubber coating. If you see this feature, just go for it.
10 Best Waterproof Shower Clock Reviews:
1. Jensen Water-Resistant Digital AM/FM Bluetooth Shower Clock Radio
Jensen is definitely a decent choice for the overall outcome. We tested their Bluetooth connectivity: it has a good range capacity.
The sound quality feels decent but not up to the mark. Some white noise was seen.
Our team checked the sound quality with their claimed radio presets.
Based on the Jensen claim, it has 10 am, and 10 FM presets. We noticed 8 Am and 9 FM presets.
This device also has a call receiving option. Sound of each call was clean but not too good.
Next is the built quality. Manufacturer used ABS plastic all over the body. They also have layered the body with waterproof features.
Features:
Bluetooth and FM/AM radio
Waterproof.
Digital watch with temperature.
2. KADAMS Digital Bathroom Shower Kitchen Wall waterproof Timer – best Alarm clock
If you are not satisfied with Jensen, Kadams can be your next alternative. It is so far the best clock for all ages.
The alarm sound is loud enough. Even the mild deaf can hear it clearly. We also liked the timer setup option. Manufacturer offers around 99m timer. This feature is absent in Jensen.
Kadasm has also won in technical areas. The temperature reading is one of them. It shows 98% accurate humidity reading indoors.
The regular temperature reading is also accurate. We noticed some reading fluctuation in Jensen.
Overall, the build quality is good. We noticed a drawback of this clock. That is, the high-temperature endurance is poor.
Steam can blur the glass. The reading of temperature fluctuates for that reason. Still, this is a good choice for the mounting feature.
It offers multiple mounting options. We liked the wall hanging hole, which is adjustable for all walls. The suction cup installation seems poor. The reason is their suction cup quality. It is not up to the mark.
Features:
Indoor and outdoor temperature features.
Five types of mounting features.
Plastic screen.
Waterproof
3. KADAMS Large Waterproof Digital Bathroom Shower Wall Clock
Everyone asks this first question: what is the difference between the previous and this one? We will reveal that in the end.
Before that, one of the common things we want to share. Did you notice women take more time than men to complete their showers?
We will not dive deep to explain the big WHY; rather, it's wise to explain how to shorten their time.
Hanging a clock can be a solution. This Kadams can be a big assist. The timer is a perfect time management tool. In fact, it is better than the previous one.
How? The display is 2 inches large with a calendar feature. You will not notice that in the previous version.
Other than this, you will get all the same features in this model. Now you might ask why I should pay a slightly high price?
Built quality. Remember? The previous model does not have steam protection. This one has that feature.
Plus, the durability is high because of the ABS plastic. We did not like the rope mounting and the support stand. The plastic quality seems low-graded. Rope quality is also terrible. We recommend you mount it on the wall. This is so far the best.
Feature:
Calendar with a large display.
Shatterproof
lightweight.
4. Cirbic Extra Large Shower Clock with Suction Cups, Date and Temperature
Round shower clocks are easy to mount. Cirbic has brought something like that. It offers all the facilities of digital watches.
The time format supports both AM/PM. You can set it up manually if you want. But this setup seems a bit complex.
Time management tool of this device is decent. Setting up an alarm is easy for completing a task. We compared the tool with KADAMS. So far, KADAMS is ahead in this category because of its diversified options.
We cannot say the winner by comparing this feature. Why? The Font size of the number is large in Cirbic, which is easy to guess by low eye visioned persons.
Another positive side of this clock is mounting. It offers three mounting options: suction cups, wall mounting, and stand for tables.
Three of them are strong. They, in fact, fit with any walls. One thing we believe could be better is the built quality. They claimed shatterproof materials, but it doesn't seem strong enough.
Features:
Three types of mounting.
Round shape clock
Silver color
5. White Bathroom Water-Resistant Rope Clock with a Clear Easy to Read Clock face
Quartz movement is still a preferable option for classic shower owners. Sana understands this fact.
That's why they built this cute white clock. It offers their regular quartz movement. The time setup option is also easy.
We tested the waterproof feature. This is the tightest form we have ever experienced. For this, the thanks will go to the built quality.
Sana used high-end plastic to create the waterproof layer. They have also used the PVC line rope for mounting.
PVC line is best for durability, rust resistance, and waterproof features. So, the clock is safe to use for a long time.
Features:
1 AA battery
White color.
Two types of hanging.
6. BALDR White LCD Waterproof Shower Clock Bathroom
A strong competitor of KADAMS. The built quality, features and timer all are equally competing with BALDR.
First the good things. Touchpads are amazing. We could set the 1 minute and 10 minutes with a single click.
The indoor temperature was accurate. The outdoor reading showed us the same response.
In this feature, BALDR and KADAMS are tied. Mounting feature of this clock sounds good. The holes for the wall are well adjusted.
We also liked the battery capacity. Two AA batteries last longer than the average digital clock.
One drawback is the setup buttons. It is hidden in the battery area. Overall we liked the product.
Features
Up to 99 minutes.
Large time display
Indoor humidity and temperature display
7. Waterproof Bluetooth Shower Speaker 5.0 Wireless Bathroom Dab Music With Suction Cup Clock
Jensen and CIYOYO- which one is better? We would go for CIYOYO. The reason is for its dedicated features.
The Bluetooth version is 5.0. This version connects faster. The auto peering option works pretty well when it is within the 33 feetange.
Jensen clocks do not have this updated Bluetooth feature. It does not even have an auto-turn-off.
CIYOYO offers auto turn-off. It also has a call receiving feature. Their AI announces " you have a call"while playing the music.
Battery strength is also good for this device. It can play for 10 hours without stopping.
This is rarer in other competitors. Sound quality is also amazing. Bass-boosted features for song playing are totally mind-blowing.
We checked the mounting flexibility. The suction cup is not strong enough. Still, this is not a dealbreaker because of its built-in features.
Indoor temperature and humidity shows an accurate record
Features
Bright LCD
Dual acoustic drivers
Compatible with iPhone, iPad, android, windows, and IOS
8 Mooas Loop Non-Ticking Battery Operated (Gray) bathroom clock -best waterproof shower hanging clock
Just like a regular hanging clock. We tested it for the powder room. The clock has quartz movement: analog but classy.
Mounting option is simple. There is a plastic hanger. The quality of plastic is high-end. MOOAS used ABS plastic.
Waterproof protection is also good. We checked the front and backend areas. There is no scope to enter the water.
One of the satisfying facts is temperature endurance. The glass does not get blurry while the bathroom gets steamy.
We could see the timing. Next is the operation. Single AA battery is enough to run the clock. Overall product is good within the budget.
Features:
Color variation.
It can be used everywhere.
Fits with any interior.
9. Large LCD Display – Monitor Temperature and Humidity Digital Shower Clock
In our previous review, you have read about BALDR. This is another version of the brand. It has all the same features except for three things.
One is the pet glass. This glass is strong enough to protect against any injury. The second is the LCD display.
This display is larger than the previous version. We could watch the humidity, indoor temperature, and time clearly from a decent distance.
Third is the timer. BALDR used military timing. We could set the timer easily. Finally, the sweetest spot.
We wanted to see the setup box outside of the clock. BALDR made this happen. They installed the buttons under the battery box. However, we missed the touchpad in this model.
Features:
Waterproof.
Time, humidity, and temperature reader.
Multiple mounting options.
10. Digital Bathroom Shower Wall Clock
We will not give a negative review at this stage. The reason is the feature. KADAMS has made this digital clock to fit with all shower walls.
This model has a Rubbermaid layer over the battery case. It will protect all the moisture.
We also liked the regular features. All are the same as the previous. A slight addition has been seen.
That is the language. We could set 7 different languages in this clock. The major drawback of this clock is tile mounting. Suction cups can not stay with the tile. KADAMS claimed that their suction cups are strong. We did not find that. The Mirror area has slipped twice when we fit it.
Features
Rubber layer
Three buttons for easy setup.
7 languages
FAQ:
What is IP24 Protection?
Ingress Protection Rating is shortly called IP protection. The digits after the IP shows the protection strength. For example, IP 24 protects the object from water spray, touch by fingers from any object greater than 12 millimeters.
Why Build Quality Matters?
The reason is durability. The shower clock must have a water resistance feature. For that, the material quality has to be robust. That is why the build quality matters.
Final Words:
We shared our experience in the entire article. Now it's time to pick your best match. Remember, you are not choosing a clock. You are saving a future for the next generation. Grab the best deal, and don't forget to share this best waterproof shower clock review with your peer.