You are about to leave your home for graduation, travel, or research in a remote area. Packing your bags and everything. Suddenly, you feel, "oh crap! I forgot to buy shower caddy."
Then you promptly fired up google and hit for that. The search result then puzzled you. You are now confused and asking: mesh vs plastic shower caddy – which one is better?
Let me save your time and money. In this article, you will experience a detailed discussion about the mentioned shower caddies. It will finally solve all the confusion by saving your money. Take a look.
Mesh vs Plastic Shower Caddy Comparison Table:
I split both of them into two sections. Each section will focus on the major considerations. This will later ease up your decision-making process.
Mesh Shower Caddy:
Constructions:
Mesh, polyester, nylon, and fabric are the main ingredients of this bag. These combinations are so far popular among travelers and students. Why? It is affordable, portable, lightweight, and durable. The best part is you can accommodate it anywhere.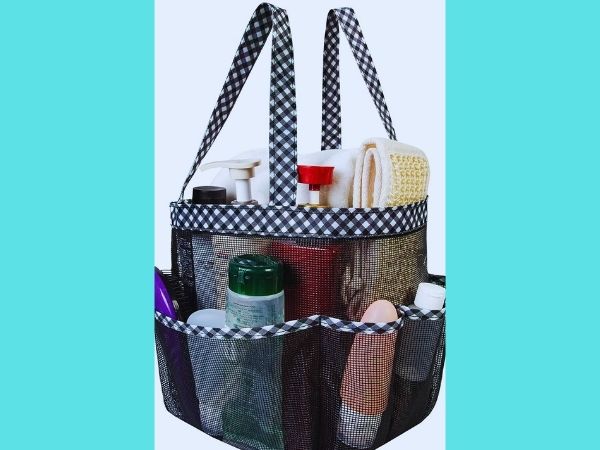 Portability:
Both plastic and Mesh are the portable shower caddy. But a mesh shower tote defeats the plastic; it does not have self-weight. You can fold it and put it in your pocket. Plus, the size is small and has enough room for toiletries.
Price:
I must say Mesh is the winner in terms of price. You will get a standard shower caddy for $5, but plastic will exceed the $5 limit. Why?
Making plastic shower caddies is time-consuming; it takes several mixtures of ingredients to make it work. But the scenario is different for the Mesh; it does not need this hassle of 2x more bags than plastic.
Spaces:
This one comes with tons of spaces. For example, A mesh shower caddy with a phone holder: you can organize your phone, charger, and cables in it. It's not economical; instead flexible.
Here is another facility. Most of the portable mesh shower caddy has 8 to 12 rooms. You can accommodate all toiletries, including your towels. But plastic caddies are not like that. There are barely 8 to 12 rooms. If you still find one, the price might not satisfy you.
Durability:
Plastic is the winner here. Their durability is better than the Mesh. Usually, a mesh shower caddy survives 1 or 1.5 years. But the plastic can last up to 2 years without degrading. This is the major factor for luring the markets.
Peoples opinion:
People mean college freshmen and travelers' opinions. They focused on the following benefits.
Shower caddy with drain holes: no chances of water storage, which is healthy for the toiletries.
2-in-1 shower caddy: Some mesh caddies offer mirrors, phone holders, and towel holders.
Comfortable: Mesh caddies are easy to travel to; you can accommodate them anywhere. Plus, the handles are easy to grab.
3 Best Mesh Shower Caddy:
3. Attmu Portable Mesh Shower Caddy:
A perfect portable mesh shower caddy for college students. It has a sturdy handle with lucrative prints. Not only that, but it also has 8 extra-large pockets. So, you can accommodate all your toiletries at a time.
2. Quick Dry Mesh Shower Caddy:
The best reasons for choosing this are for the following reasons: waterproof and steady construction. Means your shower products are safe. What else do you need? Maybe 11 pockets will be a blessing for your shower gels.
1. 7 Pocket Shower Caddy Tote, Blue:
Some caddies eat up spaces with their pockets. It results in complexity for accommodation. Handy Laundry solved the problem; you can adjust all the products without complexity. The 7 bags will be your best fellow.
Plastic Shower Caddy:
Constructions:
BPA free plastics are used in this shower caddy. So what is BPA free plastics and its benefit? Bisphenol-A is a chemical used in plastics for keeping its quality. The result of using this plastic is harmful to human beings.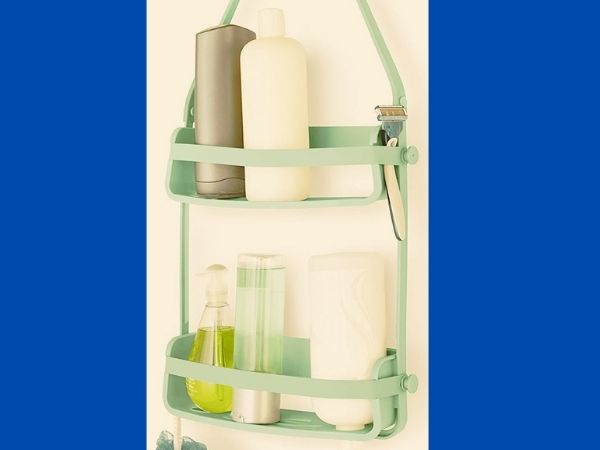 It destroys the immune power and harms children's brains. Considering this outcome, scientists invented a Bisphenol-A free plastic. This is safe and works as good as regular plastic. The benefits of using this in the shower caddy are immense: your toiletries will be safe for your skin.
And that is why this plastic is used for major construction. Another material is included in the caddies -that is the rubber. The rubber keeps the grip sustainable even in a slippery situation.
Portability:
A plastic shower caddy with a handle is easy to carry; it might not be lightweight. Still, you can take it to your dorm. As I said, the plastic has its own weight. So it will double up when you put the toiletries in. Don't get demotivated. Plastics are secured; your product will not hurt as long as it is in the room.
Price:
It's a bit higher than the Mesh. Production cost is the main reason. The raw materials are costly: for example, Bp A free raw materials starts from $4 in the store. Including the ingredients, there are some other additional expenses. As a result, the product price turns heavier than Mesh.
Spaces:
Low spaces for the toiletries. Yes! A minimum plastic caddy has 5 to 6 rooms for your shower products. But these are safe as long as it. The plastic will save your toothpaste, body wash from squeezing.
Durability:
Plastic lasts longer than Mesh. I prefer this for busy students. Since you have less time to look at the essentials, you can think about it. This can last up to 2 to 3 years. It has even no degraded issues for the future.
Peoples opinion:
Investors and low-budget homeowners are focusing on this. They prefer caddies for designing the bathroom; plastic corner shower caddy can enhance your shower look better. Many well-known designers are using it as a better alternative to stainless steel.
3 Best Plastic Shower Caddy:
3. Zenna Home 2104W Bathtub and Shower Corner Caddy:
So far, this one is the best plastic corner shower caddy. You can add it to your bathroom easily -hassle-free installation. The total plastic has a rust-free coating. Means long-lasting.
2. FLEX SHOWER CADDY:
People complained of less space. But students are satisfied with this shower caddy; it is easy to mount. And the plastic quality is quite good. You can fix it under the showerhead.
1. Tenby Living Corner Shower Caddy:
It's a 3 shelf caddy. Easy to install within 2 minutes; you can even customize it. No hassle. The plastic quality is also great -durable. Definitely a budget-friendly caddy.
Which One Can Save Your Money?
You have read the comparison. Now let me keep the promise. Since it's all about saving your budget, I prefer to go for a Mesh shower caddy for the travelers. It is good enough to endure the travel hassle. You have to change it after six or one years ( it depends on the travel frequency). Still, $30 is saved.
For the students, it's wise to go for the plastic shower caddy. Why don't the Mesh? Well, it's time-consuming to maintain the mesh caddies. Plastics take 20 seconds of maintenance – not every day! I know it's pricey, but it will last longer than Mesh.
FAQ:
What is the best material for a shower caddy?
Obviously, Strong stainless steels are the best material for a shower caddy. Why? It has rust -resistance; also has mold and mildew resistance. However, it's pricey. Plastic is a preferable alternative in that case. 
How do you clean a mesh shower caddy?
Cleaning a mesh shower caddy is easy. You can do it in two-ways: using a machine is the easiest solution. But for the college freshmen, it will be tough. Applying a homemade cleaner can be an excellent alternative to that. Here is the recipe for homemade cleaner.
1 cup vinegar
Half spoon baking soda
Mix all these in warm water.
Then soak the bag for 20 minutes. Done! Your tote shower caddy is ready to rock. 
How do you clean a plastic shower caddy?
Plastic shower caddies are easy to clean. It takes around 15 minutes. Grab the following items: mild soap, scrub sponge, and lukewarm water. When you have all the elements, then dispatch the possible parts. Wash it; rub it then; clean once again with fresh water. Done! Your shower caddy is recharged. 
Final words:
My goal is to save your time and money, and yes! I made it. The Mesh vs. plastic shower caddy is the proof; you have a clear idea of each product. This will surely eradicate your confusion. So, let me know how much you saved this Christmas?