Moen 1222 vs. 1222HD Shower Cartridge [With Pros & Cons]
Moen is a leading manufacturer of faucets and other plumbing products. The company's products are known for their quality and durability. Moen faucet cartridges are no exception. These cartridges are designed to last for years, providing reliable performance and leak-free operation.
Moen faucet cartridges are available in a variety of styles and finishes to match any décor. Whether you're looking for a replacement cartridge for an existing Moen faucet or you're looking to upgrade your current faucet, Moen has the right cartridge for you.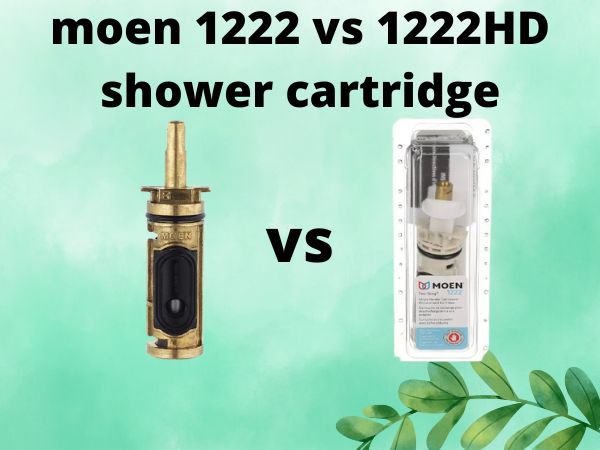 That's the basic overview of the brand. You know what cartridges you need. That's why you are here, is not it? Cool!
So, get into the point. Moen 1222hd and 1222 are super popular cartridges for replacement. The reason is for their durability and water pressure control.
People always get confused which one to pick. In this article, we will cover Moen 1222 vs. 1222hd Shower Cartridge comparison with review. Stick with us
Moen 1222hd Shower Cartridge Review:
Moen is a trusted name in the plumbing industry, and the 1222HD One-Handle Posi-Temp Faucet Cartridge is one of their most popular products. This cartridge is designed to help you fix a leaky faucet quickly and easily, and it comes with everything you need for a successful repair.
If you're looking for an easy way to fix a leaky faucet, the Moen 1222HD One-Handle Posi-Temp Faucet Cartridge is the perfect solution. This cartridge comes with everything you need for a successful repair, and it's designed to help you fix your faucet quickly and easily.
Why are we saying it? Well, This easy-to-replace cartridge features solid brass and plastic construction so it can function regularly within your Moen PosiTemp shower wand for years to come.
Moen Cartridge Replacement can be quickly replaced, enabling you to cost-effectively address one single part instead of needing to replace the shower head itself.
Feature:
Brass and plastic
Perfect for shower and tub
One year warranty
Comes with an installation feature.
Moen 1222 Shower Cartridge Review:
The Moen Single-Handle Posi-Temp Faucet Cartridge is an easy and inexpensive replacement for Moen Posi-Temp tub showers and shower faucets.
The PosiTemp valve system maintains constant water pressure and temperature while you shower.
It has durable brass and plastic cartridges that easily repair issues like leakage and temperature adjustment issues with the Posi-Temp tub and shower faucets.
Here is a detail about the product benefit. Imagine you are having trouble with the pressure or water stream within your Moen PosiTemp shower faucet, it may be due to a defective or worn cartridge.
The Moen One-Handle PosiTemp Faucet Cartridge Replacement kit allows you to remove and replace the cartridge in the fixture, which can fix the issue.
Features:
Specific valve to maintain consistent water pressure.
Brass and plastic
Compatible for tub and shower
Comprehensive installing guide.
Moen 1222hd vs 1222 Shower Cartridge
When it comes to shower cartridges, the Moen 1222hd and 1222 are two of the most popular options. But which one is the better choice?
The Moen 1222hd is a heavy-duty cartridge that is designed for use in high-pressure showers. It features a brass body and a ceramic disc valve, which makes it durable and long-lasting. The Moen 1222 is the same cartridge, but it isn't made for high-pressure showers.
1222 is better suited for low-pressure systems. Both cartridges are easy to install and compatible with most shower valves on the market. They also feature a durable finish and are backed with a limited lifetime warranty. The Moen 1222hd is available at most home improvement stores, while you can find 1222 at Amazon.
So, which should you choose? Ultimately, it comes down to your needs-and-budget. If you need a high-performing cartridge that will withstand lots of use, the 1222hd is a great option.
Moen 1222hd and 1222 shower cartridge installation:
Installing a Moen 1222HD or 1222 shower cartridge is a relatively easy task that can be completed in just a few minutes. The first-step is to turn off the water supply to the shower. Next, remove the old shower cartridge by unscrewing it from the housing. Be sure to note which way the old cartridge was facing so you can install the new one in the same orientation.
To install the new cartridge, simply screw it into the housing and turn on the water supply. Test the shower to make sure there are no leaks and that the water temperature is correct. If everything is working properly, then you're done!
FAQ:
Moen 1222 cartridge – plastic or brass shell?
There is a lot of debate surrounding what kind of shell the Moen 1222 cartridge has. Some say it is made of brass, while others claim it is plastic. There are a few key differences between these two materials that can help to determine which one it actually is.
Brass is a heavier metal than plastic, so if the Moen 1222 cartridge is made of brass, it will be noticeably heavier than one made of plastic. Brass also has a smoother finish than plastic, so if you run your finger along the surface of the cartridge, it should feel smooth.
If the Moen 1222 cartridge is made of plastic, it will be lighter in weight and have a rougher surface. Plastic is also more likely to crack or break than brass, so if you see any cracks or breaks in the cartridge, it is likely made of plastic.
When Should You Change Your Shower Cartridge?
If your shower isn't working as well as it used to, it might be time to change your shower cartridge. Shower cartridges are the part of the shower that controls the flow of water. 
Over time, they can become clogged with minerals and debris, which can reduce the flow of water. If you notice that your shower isn't providing as much pressure as it used to, or if the water temperature is fluctuating, it's probably time to change the cartridge. 
You should also change the cartridge if you notice leaks around the handle or spout. Cartridges typically need to be replaced every two to three years.
How do I know what cartridge fits my shower?
There are a few things you'll need to take into account before purchasing a new shower cartridge. First, what type of shower do you have? There are different cartridges for different types of showers.
Second, what is the problem with your current cartridge? If it's just a matter of replacing a worn-out component, then you'll want to get the same type of cartridge. 
But if you're experiencing leaks or other more severe issues, it might be time to upgrade to a better-quality cartridge. Finally, don't forget to check the size of your old cartridge before ordering a new one.
Are Moen 1222 and 1222B interchangeable?
If you're looking for a replacement shower cartridge, you may be wondering if the Moen 1222 and 1222B are interchangeable. The answer is yes, these two cartridges are identical in terms of function and compatibility. So if you need a replacement, either one will work just fine.
Conclusion:
In conclusion, the Moen 1222hd and the 1222 Shower Cartridge are both great products that will provide you with many years of service. They are both easy to install and come with a lifetime warranty. If you are in the search of a durable, reliable, and affordable shower cartridge, then either of these products would be a great choice.