Plastic vs Metal Shower Head – With Pros & Cons
The majority of homeowners get puzzled to choose between plastic vs. metal showerhead. We witnessed this on several forums.
This is natural since they are adding their cart without touching it. Now the question is: is it possible to choose the right showerhead without physical experiment?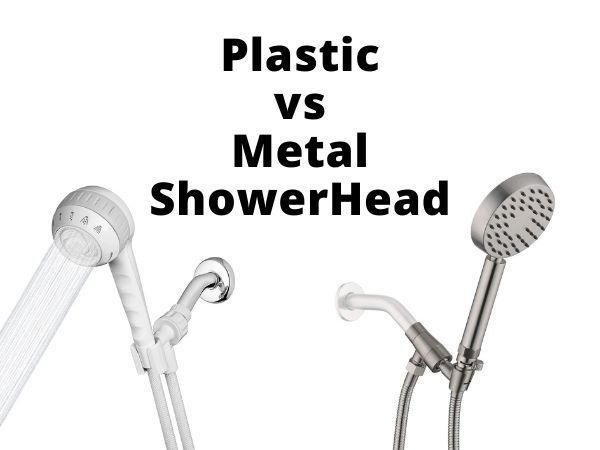 Yes! Experts like us are easing up the task. We are here to show the advantages and disadvantages of each product through this article.
Read till the end. You will find some exciting factors in this plastic vs. metal showerhead article. It will reduce your fuel and energy.
Plastic vs Metal Shower head:
We have enlisted 4 major things to consider for two of these showerheads. The reason for choosing these factors is simple. Our team tried to make sure: leakage-proof, toxic resistance, durability and water pressure handling.
Hose Type:
Plastic:
PVC is the main ingredient of this hose. You will see two types of PVC in plastic shower heads: one is basic, another is reinforced. Both are good and hygienic.
But there is a critical point: it is tough to find the right PVC. Low-end PVCs are not good enough. They bend or kink over time. Plus, the risk of toxicity is high.
You can avoid this by buying reinforced PVC. However, the price is a bit high. You can buy a metal hose for that price.
Metal:
We call this type risk-free. It is durable, leakage-proof, and has less chance to get toxicate. Overall experience is good. So, why are we saying this?
Manufacturers are using certified metal. This type is tested in the laboratory to avoid the essential risks. Not only that, but it also has zero chances to get bent or kink. If you are a new renovator, it is wise to go for metal.
Tip:
Since you will buy it online, read the forum's review about the hose. This will give you a clear idea. It will help you to choose the right hose. Product description can also help you to find the hose type.
Thread Connection:
Plastic:
One can easily detect this. It is the connector of the shower arm. Just look at the ridges: plastic thread connectors are tightened by hand.
So the risk of leakage is high. It means your water bill will drain through this way. There are a lot of water-proof sealants in the market. You can use them to protect the leakage. Still, plastic does not last long.
Metal:
You will not see the ridges on metal tread connectors. The reason is simple! An adjustable wrench can only handle it. It needs the wrench to tighten. This will secure the risk of leakage: ultimate water saver.
Holder Brackets:
Plastic:
Detecting the plastic holder bracket is tough. Why? Because manufacturers are blending plastics with metal.
This is for reducing the cost. How can you detect the plastic holder? The joiner (pivot ball tightening ring) has some ridges. It is for the hand tightening feature.
Only plastic offers this feature. The second is the bracket divider: just zoom the product you will see in that. If you don't see that, check the product description. The manufacturer will mention that.
Metal:
Metal holder brackets are easy to find. It does not have any ridges. An adjustable wrench can fix the dial only.
Showerhead:
Plastic:
You will struggle with the bracket and hose detection. The rest of the parts will be easy for you. How? Read our product review. It will clear up the idea better.
Metal:
Metal showerhead looks glossy. The finish glows better on metal. Remember, all sorts of metal finish glows only on metal. If you compare plastic vs. metal showerheads together, you will see the metal one glows better.
Plastic Shower head Review:
Waterpik SM-651 E Original Massage Shower Head
We promised you to share a real-time experience. Here is that. Waterpik is a legendary player in the showerhead industry.
They did not play any hide and seek with their product. This pure plastic showerhead is designed for contemporary style.
It is made from PVC reinforced plastic. The bracket is made from plastic. But the hose is made from nylon and plastic. It looks pretty durable.
Waterpik claims it is a risk-free investment. They offer leakage-proof, free of toxicity, and easy installing showerheads.
So far, the user experience is good for low-budget users. Only a problem we are facing is the water pressure. It is low.
Pros:
PVC plastic with durable features.
Easy to install.
6 types of shower mood.
Cons:
The water pressure could be better.
Metal Shower head Review:
G-Promise Brushed Nickel Handheld Shower Head
All metal showerheads are a blessing. It saves at least 40% of plumbing costs. G-Promise has strongly focused on this fact.
Their all-metal shower head offers a brushed nickel finish. You know! Brushed nickel is extremely durable and stops the water spot. It is easy to maintain.
The best things about this showerhead are the shower hose and ball joint. Your showerhead will get complete leakage proof.
It also blocks the entrance of toxic elements inside the water. Healthy water for your family. One thing we did not like is the hose length. It could be long enough.
Pros:
All metal showerheads.
Durable for a long time.
Moderate water pressure.
Cons:
The hose length could be better.
FAQ:
What is the best material for showerheads?
Stainless steel, Brass, and Abs plastics are so far the best materials for showerheads
How long do plastic showerheads last?
A plastic showerhead lasts more than 7 months or a year. It only depends on the usage
Metal vs. plastic shower hose – Which one is good?
We prefer the metal shower hose. They don't bend or kink easily. Plus, these shower hoses have leakage-proof features.
Final Words:
We showed the pros and cons of each showerhead. Now, it is your time to pick the right shower head. Our team believes that you can pick the right one without physically experience the product. If you want to feel the same for your friend, share this plastic vs. metal showerhead article with your friend.