10 Types Of Shower Heads – Which For What?
You have decorated the shower room; it has a fancy mirror, tiles, and everything. Still, something is missing. You are a bit confused about that. Why?
Maybe Hesitating to pick the right shower head. So many reasons for this confusion. Here are some of them.
What type of showerhead should I choose?
Is it suitable for the shower room?
And the list will go on. Right? Well, time to recover the hesitation. You will get rid of that through this article. It will cover 10 types of showerheads.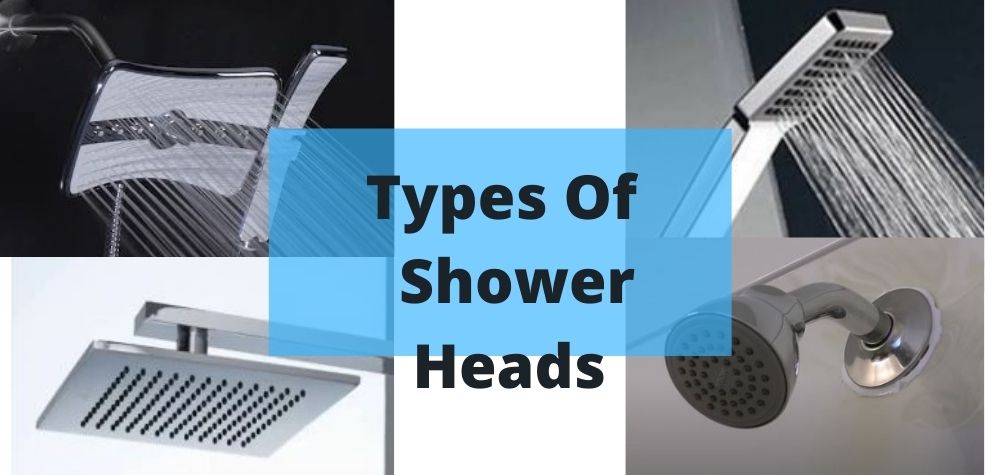 Each will explain their reasons to choose. This will ease up your decision-making by saving time. Let's jump right off the bat.
10 Types Of Shower Head:
1. Hand-Held Showerheads:
Hand-held shower heads are simple to use. It is situated near at hand most of the time. The major usage of this shower head is extensive.
You can wash specific body areas with it; as a result, cleaning becomes accurate. That's not the end. Hand-held shower heads are best to wash kids and pets.
The long hose allows you to clean them in detail. For that, it has a different shower mood. This spray mood can wash furry pets better. Your furry guy stays healthy for that.
This showerhead also complies with significant certificates. ADA and California water efficiency certificates are one of them.
One of the significant benefits of this shower head is solving the low water pressure. Low water pressure cannot give a satisfactory shower experience for maximum users. So, the showerhead brings the water close to you.
Pros:
Easy to clean
Best for pets and the elder.
Works great with low water pressure
Cons:
Maximum showerheads do not last long.
2. Adjustable Shower Heads:
"Do whatever you want to do" is the synonym of adjustable showerheads. It comes with a sliding bar. Installing that allows the user to set the height and direction.
Simple! So what types of adjustable shower heads are the best? There four types:
Slide bar: slide bar comes with a stainless steel bar. Some of them have hose pipes.
Magnetic: the showerhead has a magnetic bar. It allows you to set the direction with one tap. 
Auto lock: an advanced technology. When you set the direction, the technology will lock the setting automatically. 
Flexible: simple shower arm. You can adjust it. The major risk is; it loses grip after a few months.  
Bigger spun: this showerhead has a bigger spun than the traditional showerhead. Your shower experience will be better for that. It covers your whole body: means less water, more body coverage. 
Classy Look: Not only take care of your monthly water bills but also adorn the shower look. The color and body construction adjusts with the internal shower look… 
Pros:
It saves the water bill.
Total shower experience.
Easy to adjust
Cons:
The installation time is a bit lengthy.
3. Fixed Showerheads:
Wall-mounted showerheads are called fixed showerheads. You cannot move or adjust it. The biggest benefit of this showerhead is the water pressure; the water flow rate is optimum.
Means. Less water consumption, but the overall wash is detailed. Fixed shower heads are good for occasionally used bathrooms.
Remember, this type is more than just a showerhead. Why? The spray head has a specialized anti-clog feature. It will reduce the cost of plumbing.
Some spray heads come with therapeutic massage technology. Your muscles will relax to charge up for the next working day.
Pros:
Full body spray coverage.
Relaxing massage for curing muscle ache.
Cost-efficient
Cons:
The height is tough to adjust for all family members.
4. High-Pressure Showerheads:
Around 40 to 60 PSI is the normal water pressure. Above this is called high pressure. This type of showerhead cleans deeply; don't need to touch your body with your hands.
The water pressure washes all of them. Sounds time-saving, right? But here is the opposite of the coin: people with sensitive skin cannot tolerate this showerhead.
Over every drawback, we prefer to go for the benefits once again. The primary use of this showerhead is skin cleaning.
Sweat generates germs in our bodies; This results in skin disease. Regular cleaning can save us from that. But do all body rubbing brushes are suitable for the skin?
No! High-pressure showerheads are safe. The technology is equipped with anti-bacterial features.
Pros:
Total body cleaning.
Fast cleaning
Complete skin and money care.
Cons:
Not tolerable for sensitive skin.
5. Rain Showerheads:
Overhead showers have a common spray mood; rain spray. It distributes water like a rainfall. The overall body drenches equally with that. Water droplets hit softly; no chances to get scald. This type of showerhead works best with a high water pressure area.
You will get a warm massage experience for that: a warm shower can detox the skin. It also relaxes the body.
All showerheads serve a warm shower experience. So why should you choose a rain shower head?
It shares the water droplets equally. This is possible for the nozzle allocation: these are wide and structured to cover the full body.
Pros:
Complete stress reliever.
Overall shower experience enhances blood circulation.
It is environment-friendly
Cons:
The mist might blur the glasses
6. Water-Saving Shower Head:
Minimizing water consumption is the main goal of this showerhead. So, how does it minimize? There is advanced technology. It uses air pressure to enhance the water droplet.
As a result, shower takers get full-body coverage with minimum water.
The average monthly bill reduces 40% for that. There are two types of water-saver: Non-aerating and aerating. Aerating enlarges the droplet size. Non-aerating squeezes the water and sprays densely to give a spa feeling.
Pros:
Energy efficient
It reduces CO2 emissions.
The average water usage reduces up to 30%
Cons:
Maybe you will take quiet time to complete the shower.
7. LED Showerheads:
Want to look more decorative? LED shower heads should be your first choice. It is technologically advanced. Here is an example.
LED showerheads come in different light formats. Blue, Red, and Green are the main colors. Each color indicates the water temperature.
So, it's easy to guess the temperature. How does the light work? There is a turbine inside the head. When the water enters, it starts to sense the temperature.
Then it starts to reflect the temperature measurement through color. Now, you might have questions about the shower experience. Trust me! Just amazing. It cares about skin, muscles, and mood.
Pros:
Perfect for disabled people.
Skin-sensitive people can sense the temperature.
The best companion for kids.
Cons:
The light might need replacement after 2 or years.
8. Outdoor Shower Heads:
Same as the regular showerheads. What are the differences? Purpose. Outdoor showerheads are best these: after a swimming shower, cleaning after intense outdoor workout.
This showerhead comes in two forms: Portable and Stationary unit. Portable showerheads have two types: single hose and pedestal.
The single hose can only supply cold water. You can move it anywhere. But the pedestal is unique. It has a cold and hot water supply.
The stationary unit is contrary to being portable. It is more likely a fixed showerhead. The water supply is better than portable heads. One more thing about this: try to focus on the privacy of the showerhead. Tell your plumber to fix it strongly.
Pros:
Best for a post-workout shower.
Easy to clean up the cat.
Kids can clean them up after sports.
Cons:
9. Dual Showerheads:
Dual showerheads are the combination of the following shower heads: Hand-held and overhead. It is a combined package. You will get all the installation accessories with it.
This showerhead works best in a busy shower room. The biggest benefits of dual shower heads are:
Disable persons can easily access it.
Perfect for kids and pet washing.
It saves time for washing.
You can use it for detailed body cleaning.
Warm massage experience for sensitive skins.
Pros:
Easy to use.
Water pressure stays smooth.
Kids-friendly shower
Cons:
The installation process is a bit complex.
10. Filtered Showerhead
One of the safest showerheads. Why? Filtered shower heads are health-oriented. It filters out parasites and bacteria. You can even drink from the filtered shower heads.
If your skin is water sensitive, go for it. Medically approved and thousands of skin experts prefer these filtered showers heads. Not only that, but it also improves skin health.
Don't you want to know the secret sauce of this showerhead? Stones and germ-killing elements inside the showerhead. They are designed to filter out risky particles.
Pros:
Good for skin care.
Anti-bacterial shade.
Drinkable water.
Cons:
Over time the decay of the stone. It would help if you changed it once a year.
People Choice:
RV Showerhead:
People are asking to show an overview of Rv showerheads. Here it is. Traveling with RV is fun. But travelers have to calculate water usage.
It occurs mainly in remote areas. They want a super package to reduce water usage but not compromise the shower experience.
Rv showerheads are designed to serve the desire. You can adjust it in a small shower room. Plus, the water consumption ratio is quite economical. The showerhead has an aerator to control the pressure. The temperature adjustment is also good enough.
Pros:
Easy to install.
Comfortable temperature adjustment.
You can install it in any shower setting.
Cons:
The water pressure seems a bit low.
Shower Panels:
Modern homeowners are leaning on this innovation. Yes! This is none other than the popular shower panels.
So what is that? The shower panel has the following parts: overhead, handheld shower, 4 or 5 massage jets.
All these features spray water to give you a relaxing bath. Your body part will get a dedicated massage jet. They will serve you a detailed cleaning experience.
Pros:
Relaxing warm shower.
Whole-body massage.
Dedicated massage jets for all body parts.
Cons:
FAQ:
What Does It Mean Handheld Shower Heads With an On and Off Switch?
Hand-held shower heads with an on/off switch means; you are saving water. This technology resists water consumption. One tap switch allows you to stop/start whenever you need.
What Are The Benefits Of Brushed Nickel Rain Shower Head Handheld? 
The benefits of brushed nickel are immense. Read some of them:
– It lasts longer than chrome.
– Brushed nickel does not show finger and water spots 
– The finish stays at least for 5 to 10 years.
– It matches with any bathroom interior.
Final Words:
I answered some of the basic queries. You have got a thorough idea regarding the types of showerheads. I hope there is now no room for confusion.
If you still have, leave your comments below. By the way, don't forget to share it with your Facebook and Instagram story. We have some plans to make your experience better.
See also related post:
How To Remove A Shower Head That Is Glued On-7 Easiest Steps
How To Add A Handheld Shower Head To A Bathtub [Be A Master In 20 Minutes]
Top 5 Best Brushed Nickel Shower Head Reviews-2021
Top 10 Best grohe shower head Reviews 2021
10 Best Oil Rubbed Bronze Handheld Shower Head – Get The Best Deal